While implementing an upgrade to the home, most homeowners also think of the impact on the home's resale value. It's true even if they don't hope to sell it in the near future. If not all, most homeowners think of their homes as an investment, and they will love to see their investment grow.
Upgrades do have the potential to impact the home's resale value positively. While the kitchen or bathroom remodel are some significant upgrades with immense influence on the property's value, some minor upgrades could significantly push up the property's price. One such upgrade is a custom closet.
Adding a custom closet not only helps you declutter your home but also skyrockets the resale value of your home. Keep reading to find out how custom closets bring a good return on investment if you ever put your home for sale.
Does a Custom Closet Add Value to Your Home?
The short answer is definitely yes. A custom closet can surely help with the resale value of your home with a higher return on your initial investment than any other renovations.
Adding a customized closet to an empty spare room can make it appear just like an extra utility and, as a result, increasing the home's value. Furthermore, it adds beauty, space, and a sense of luxury to the house. 
Custom Closet Make Your Home Look Spacious
You may not have a large home, but to keep the things organized and cut out the clutter, you fit in some custom-made closets. You will see its benefits in the entirety of the home. A well-organized home looks clean, spacious and helps potential buyers to envision themselves living in it.
While a custom closet does not add any extra footage, it helps keep things organized. The right custom closet design ideas help in creating an illusion of extra space. This has a psychological effect on potential buyers, and they will see the home more open and spacious.
Consequently, a well-organized home that perfectly utilizes every square inch of the space is much more desirable among home buyers than even a larger house but with a cramped environment.
Buyers Love the Extra Storage
Ask any realtor, and you will know that the one thing that most home buyers inquire about is the extra space. Closets are for the same purpose, i.e., to create extra storage in your bedroom. Buyers see all the custom closets as extra space that they can use to sort out their belongings and neatly stash them up.
The walk-in closet, reach-in closets, and all the custom closets have a certain appeal to buyers. What attracts the buyers even more is the kid's custom closet. The buyer's kids can utilize them to sort their things out.
Staging is Much Easier
When you put your home on the market, your realtor will let you know what you need to do to make your home appeal to potential buyers. This will include putting away personal items and possibly removing some of your bulky furniture. You might be asked to pick up carpets that are covering hardwood floors or switch out freestanding lamps to brighten up the room. These actions will help buyers better envision their own items in your house. 
When you take these steps, you will probably notice that you suddenly have many extra belongings to store. At this moment, custom closets come into play and give you the perfect place to stash these items. Piling them in the master bedroom or garage corner will add a visual clutter that neither you nor your buyers will like to see. 
Paying for a storage unit is an option, but it doesn't make valuable financial sense if you don't have a lot of items to store. If you have a storage place like a walk-in closet, that will give you the space you need to pack these items away. Besides, it will show your buyers that you have enough storage space to only store your everyday belongings and other miscellaneous items. 
Custom Closets Indicate Good Maintenance
When you buy some else's house, it is anyone's best guess as to whether they kept up with maintenance or not. While an inspection will point out problems, neglected plumbing issues, or an old roof in dire need of replacement, potential buyers don't necessarily want to wait until they get the inspection phase to determine the routine maintenance.
Seeing indications that a house has been taken care of can reassure someone who's hoping to in a bid and move through the purchasing process smoothly. Upgrades like custom closets are usually a strong indication of basic maintenance. Very few homeowners actually would invest in unnecessary renovations while neglecting the basics of their house. However, this doesn't apply to custom closets.
Of course, any cosmetic or luxury upgrade such as granite countertops or new cabinets will tell your buyers that you take pride in ownership and you have put your time, money, and effort into keeping your house in excellent condition.
Custom Closets Always Stand Out
When you are selling your house, the primary goal for you is to stand out against the competition. If you have a typical home with three bedrooms and a two-car garage in your vicinity's most common lot size, you will need something unique if you want to attract attention.
Please make no mistake, your house will most likely end up selling anyway, but your goal should be to get the best price possible and to have it sitting on the market for as short as possible. Maybe you even dream of a bidding way. A luxury like custom closets can be that something special that would make your homes stand out among the rest and help you get that attention.
Adds a Sense of Luxury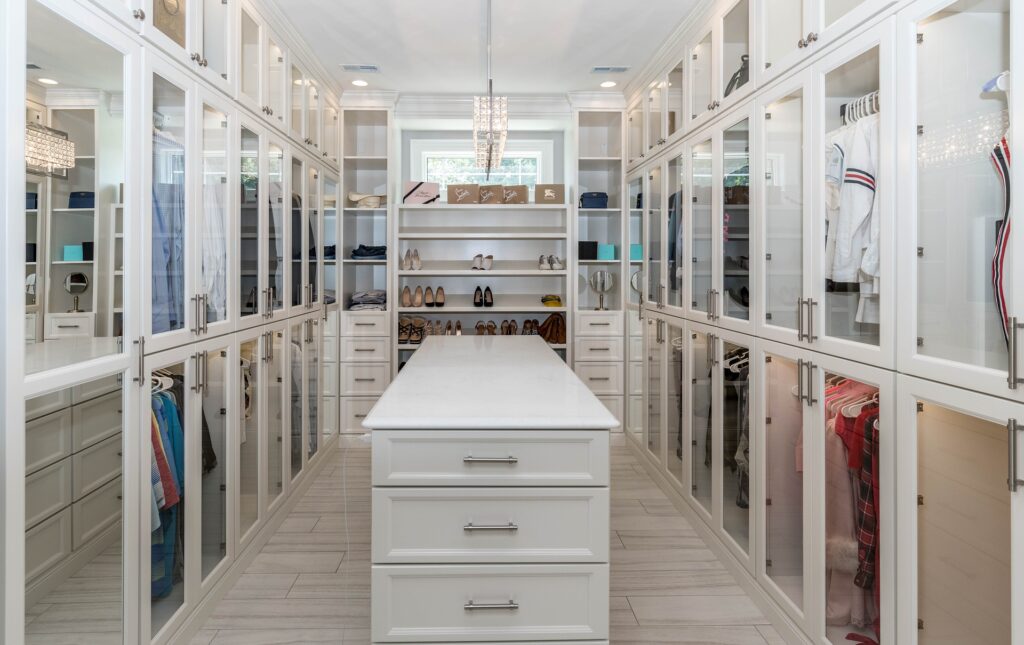 Most homebuyers see custom closets as a luxury. Moreover, they are surprised to know that they can find homes in their budget where the current owner has put the money into creating an organized and beautiful space. This is perhaps the most value a custom closet can add to a home.
A custom closet can cost a few hundred to several thousand dollars, depending on the features and space. While you may opt for a budget-friendly upgrade, having a custom closet gives a sense of luxury to your space that one cannot find in traditional homes with reach-in rods and shelves.