Just about everyone has to bring work home with them at some point in time, whether that is a pile of paperwork or saved on a laptop. On the other hand, you could be working from home full time and are looking for the right home office ideas.
Carving out a home office that promotes creativity as well as helps you reach productivity even when you are working from home can be relatively easy.
Besides, it doesn't require a dedicated room or ample square footage either. When you are thinking about home office ideas, get creative with the space you already have, even if that means using a spare corner in your bedroom or an unused closet.
Whether your goal is to go modern and sleek or cozy and chick, here are some brilliant home office design ideas to help you decide and inspire the design of your space.
Shape Up With a Standing Desk
When it comes to home office design ideas, it is hard to beat the allure of standing desks. Further, as we continue to find connections between sitting too much and major health issues, they will likely continue to grow in popularity.
On the other hand, standing desks aren't just good for your health but also boost productivity, helps regulate mood swings, and increase energy levels throughout the day.
If you decide to go for a standing desk for your home office, you will have plenty of seating options to choose from. Although adjustable barstools and standing desk chairs can work great when the desk is raised, you can still rely on regular office chairs when you lower the desk.
Build a Gallery Wall
One of the best home office ideas is to take advantage of a gallery wall. In actuality, a gallery wall is a collection of items hung in grouping like you might find in an art gallery or museum. Furthermore, these items can include anything from photographs and paintings to other kinds of personal trinkets and treasures.
Do you find yourself occupied in virtual meetings all day? Gallery walls work particularly great in home offices as they provide a stylish background to your online video calls. In addition, gallery walls are an excellent way to showcase your unique personality and style, serve as a focal point for the room, and inspire your workspace with mood-boosting elements.
Need some help getting started? First, choose a theme and a color scheme. Favorably, the color scheme and the gallery wall theme can be as loose as you want them to be.
You will just want to make sure to consider the color, size, and content of each item you include on the gallery wall. In terms of wall art placement, don't refrain from playing at different levels.
Liven Up Things With Lighting
In a perfect world, all our home offices would have an abundance of natural light flowing in from outside. Unfortunately, not all of us live in that ideal world.
Experts recommend trying out these lighting tips to make your office feel bright, airy, and conducive to work, especially when it comes to cool home office ideas. Besides, if you have a window in your office, you can take advantage of natural light by putting a mirror directly across from the window. As a result, this will reflect natural light into your office.
However, if you don't have any natural light, that doesn't mean you are destined to work in the dark. From table lamps to floors lamps to overhead lighting, there are plenty of ways to bring light into your home office.
Similarly, experts recommend choosing some indirect, ambient light sources besides task lighting for specific types of assignments. Moreover, if you find yourself in a lot of virtual meetings, try to arrange your desk in such a way that any window is in from of you. You can also try using LED lightbulbs, as they tend to have a soft and warm glow that can help your appearance.
Maintain Multiple Workstations
If your job demands a wide range of different types of tasks to do throughout the day, it might make sense to give yourself a few different workstations options.
However, that doesn't mean you need to spend thousands of dollars on home office furniture. Alternatively, catering different areas of your house to different tasks so you can have some variety throughout the day.
For instance, if you are a teacher working from home, your standing desk might be the best option for teaching courses. Further, your one-on-one conferences with students could take place on the couch with a lift-top coffee table. For grading, you might want to stick to the desk.
Tips for Designing a Home Office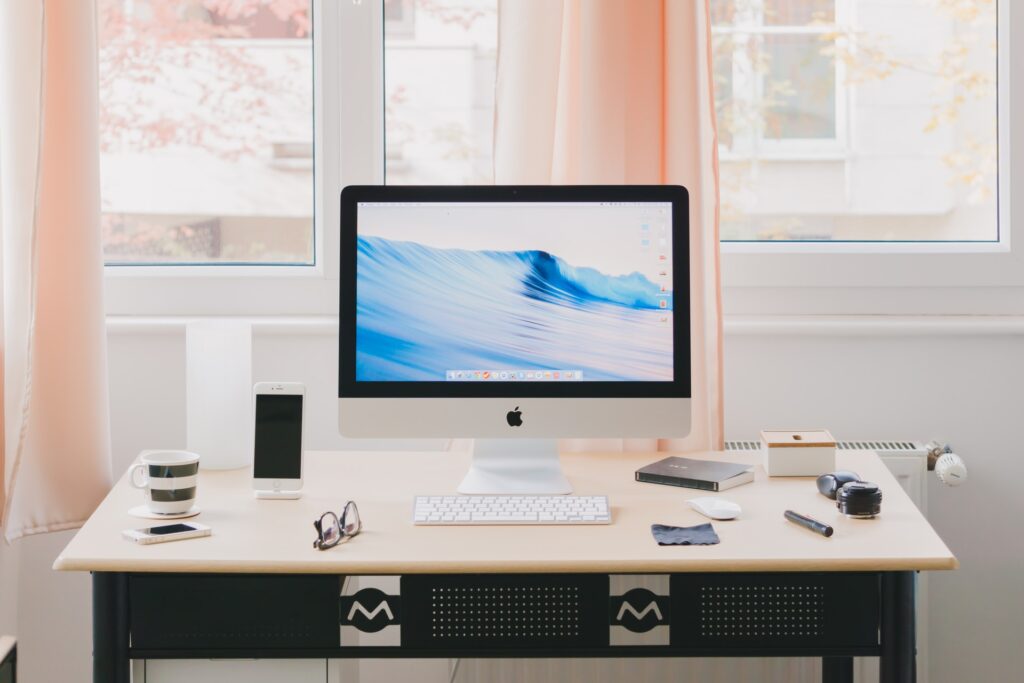 Don't Prefer Form Over Function
Your desk, shelves, and storage should serve you, and not the other way around. You have to consider your workflow and what items you need at your fingertips before investing in further. After that, look out for pieces that are both functional and beautiful.
Invest in a Great Chair
You are likely to spend hours parked in your home office chair. A beautiful, ergonomically correct, and comfortable seat is worth every dime.
Paint Walls a Color You Love
Forget the usual office beige. You need a color that gets your work motor running. For some people, that's a bright, cheering color such as orange or lime green. Alternatively, others need a calming shade such as botanical green or sea foam blue to perform.
Give Yourself a View
You need to position the desk where you can stare at something more interesting than a blank wall (even if you love the color) when you glance up from the laptop screen.
While the window's natural light is ideal, if you are in a windowless space, hang a beautiful picture above the desk or position your chair to face the door.