Strip lights, recessed lighting, and track lighting are the most typical forms of lighting for your closet. Each choice has a diverse variety of bulb and mounting options. 
Some of these models incorporate a motion sensor for automatic activation, while others are wireless and battery-powered for seamless integration. Not sure which lighting options you should include for your custom closet? Here are some options for seamless and efficient lighting for your closet. 
Lighting Strips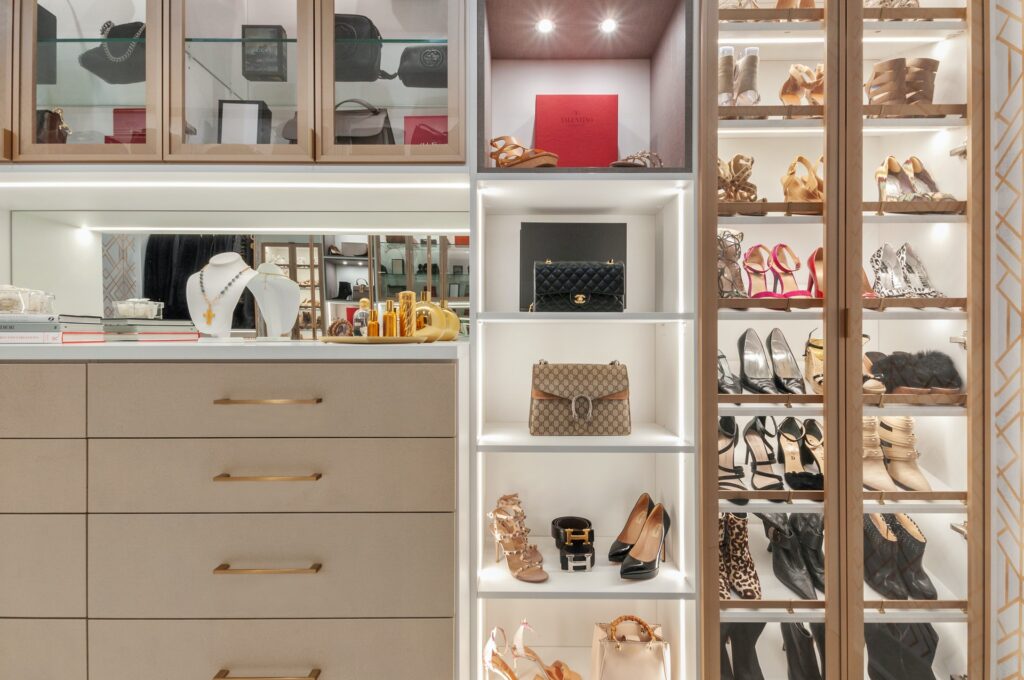 Strip lights are flexible cables or strips of small LED lights with a strong adhesive backing that you frequently connect to a wall or other surface. Strip lighting does not require any hardwiring; simply plug it in and use it.
Since the strip is so thin, these lights are ideal for lighting up tiny, gloomy areas. Some strip lights come with remote controls too. It allows homeowners to modify the color and pattern of the lights. It will also allow a more diversified illumination for you to brighten up your closet.
Recessed Lighting
When hardwired and installed, recessed lighting fits inside a ceiling opening and lies flat with the drywall. These lights are usually spherical and range in diameter from 3 to 12 inches. 
Usually, you can achieve optimum lighting by using a series of compact recessed lights rather than a few large ones. Follow good fire safety procedures when installing recessed lights in your custom closet. You should only do so if you can retain a buffer of at least 6 inches between the lights and the clothing or other items you put in the closet. 
Track Lighting 
Single light bulbs are attached to a metal stick, or track, in a track lighting system. Track lights have the advantage of rotating the light bulbs to highlight various regions of your closet. 
Moreover, track lighting is preferable here since the larger closets normally have adequate ceiling clearance to minimize a fire threat. These lights are also easy to set up as they require only one hardwiring spot instead of multiple points (as with recessed lighting).
Automated Lighting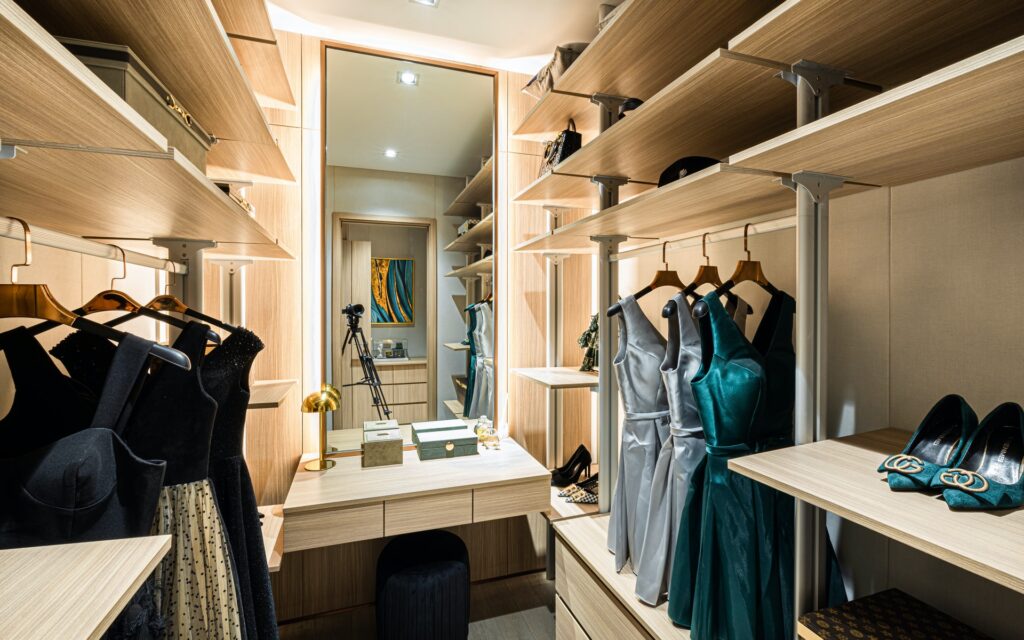 Motion sensor lights are intended to turn on instantly when they detect motion within their sensor range. Active ultrasound and passive infrared (PIR), both of which employ ultrasonic waves to identify movement, are the two most prevalent forms of motion sensors. 
PIR uses variations in infrared energy or body heat to detect motion and turn on the light. Furthermore, motion sensor closet lighting does not require a light switch which makes it quite practical.
Wireless Lighting
Cutting into ceilings and walls to add additional closet lighting isn't always convenient or practical. Wireless closet lighting is an excellent choice in these scenarios because it does not require electrical hardwiring. 
On the other hand, wireless lights are powered by batteries, commonly AA or AAA batteries. You can also recharge some of these wireless lights.
To charge a wireless light, use the provided charging cable to connect it to a regular USB port or phone charger. Typically, you can use magnetic strips or strong adhesives designed for walls to attach wireless lights to various surfaces. Most wireless lights will last 3 to 5 hours when you use them continuously, or 1 to 2 months when you use them occasionally.
What to Consider When Choosing the Best Closet Lighting
The design and floor space of your closet and your personal taste will help you choose the lighting for your custom closet design. The type of light you want to cast in the space are all crucial factors to consider when looking for the best lighting for your closet. The color temperature and brightness of your closet lights, for example, can have an impact on how your clothes appear.
Closet Dimensions and Features
Not all forms of closet lighting are suitable for all types of closets. Fire safety is crucial, as it is with any electric cables or gadgets. You require a minimum clearance of 6 to 12 inches between a light source and a surface for many wired lighting installations.
The type of lighting you can install in your closet is determined by the size and architecture of the room. It's always a good idea to check with your local government to find out the actual construction codes.
Materials
Another significant factor to consider is the materials used in your closet lighting, which may vary based on the sort of lighting you add. You can use metal frames, for instance, for track lighting. 
These panels, also known as tracks, are available in a range of finishes to complement various decor designs. Recessed lights, on the other hand, are frequently encased in white resin or silver metal rings.
Aesthetic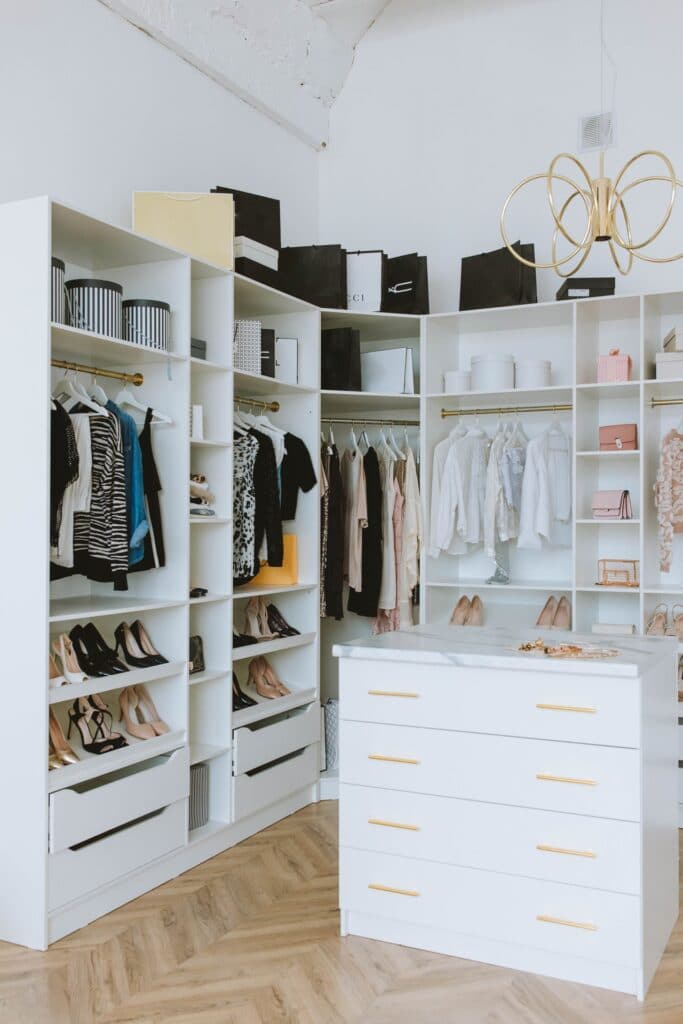 The design style of your closet lighting is definitely more fun to shop for than the bulb color. Additional light fittings are available in black, silver, bronze, or other trim colors, while most closet lights are trimmed in plain white tones to fit in with drywall.
When choosing lighting for your closet, consider your home's design or style. You can also choose an industrial, antique, or contemporary modern fixture to complement your home's décor. Of course, the size of your space will determine the best fixtures for your closet.
If your closet is a walk-in rather than a normal 4 by 6-foot storage area, you have additional options for choosing a larger or more ornate closet light.
Wired vs. Wireless 
Your closet organization requirement, as well as your desire to invest time and money in a closet-light installation, will determine whether you choose hardwired or wireless lighting for your closet. Cutting and splicing wires, cutting out drywall, and drilling and mounting hardware to fit your fixture are all common steps in installing a new hardwired light. 
These activities necessitate electrical knowledge and a remodeling contractor should work on them. However, turn off all electrical power sources and follow safety precautions if you wish to install your new closet lights yourself. Consider a plug-in electric light or a battery-powered wireless light if you need a closet light that is easier to install. The majority of wireless lights are powered by AA or AAA batteries that last for a few months. 
Today, some wireless lighting for your closet includes rechargeable batteries, so you won't have to buy new ones every time the light's battery runs out. A basic USB charger can recharge most battery packs.