The right walk-in closet design ideas can significantly improve the storage of your home. That's the beauty of a well-built closet system. A custom-made unit of shelves, rods, clothing, and drawers can be easy to install and help you organize your wardrobe. Once considered a typical feature only found in luxury homes, a walk-in closet is now regarded as essential for anyone looking towards a new home.
Even if you are not looking for a new home, converting a spare room into a large walk-in closet has become a popular home renovation idea in recent years.
Designing a walk-in closet that does more than just giving you a lot of space to store your clothes needs some creative thinking. Get accustomed to the basics and learn which walk-in closet design ideas should be considered essential when putting together your dream closet.
1. Opt for Wall-to-Wall Cubbies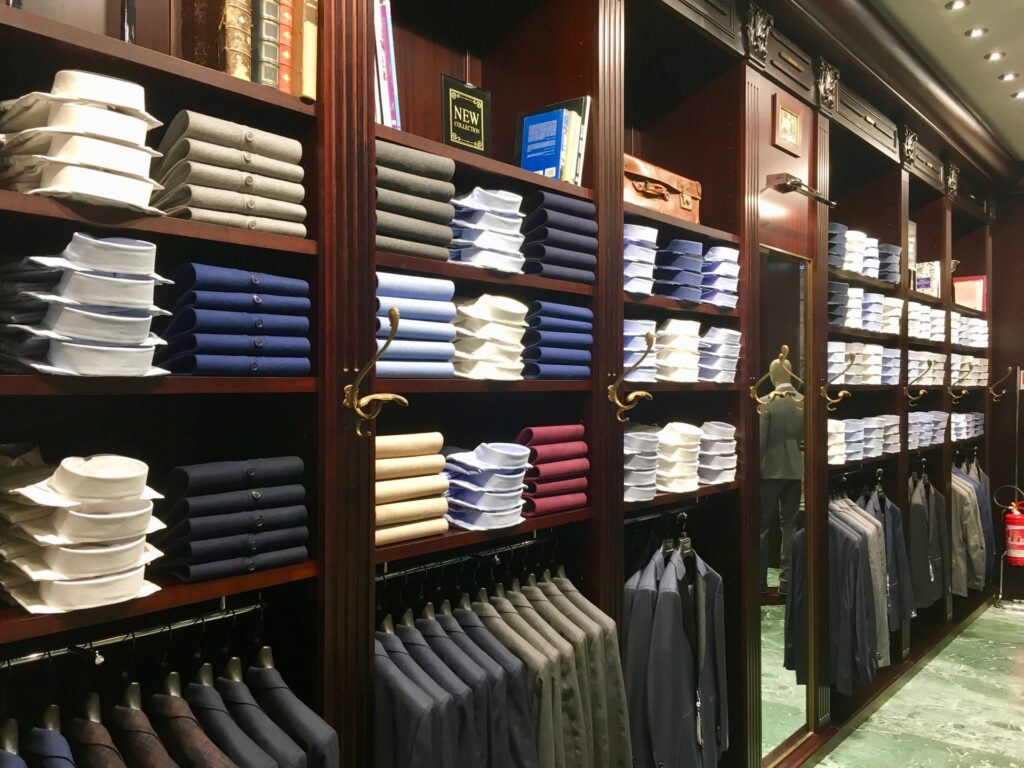 Cubby-style shelving units are among the top walk-in closet ideas for trousers, shoes, sweaters, hats, and other accessories that you can store and display in your closet.
You can even tailor the shelves to offer flexibility for boots and higher piles of clothing. Further, the unit keeps everything exact and spruce and in plain sight for those who love to have all their options laid out right in front of them.
2. Select Smart Closet Storage
One of the essential custom closet design ideas you will want to get right in your closet's storage layout. Just because you have more storage doesn't mean you shouldn't be stretching every bit of space available in the closet.
Using your vertical storage space to the top of its capabilities can help you achieve this. You can consider including additional hanging rods, closet hanging accessories, floor-to-ceiling shelving, and shoe racks into the closet design.
It is recommended to use a high-quality custom closet organizer. Besides maximizing your closet's storage space by creating a home for everything, they will efficiently complement your home's decor.
3. Choose Good Lighting and Appropriate Colors
While a walk-in closet provides enough storage space and a luxurious aesthetic for your dressing area, it also lets you showcase your entire wardrobe all of your clothing accessories.
In order to make your wardrobe really stand out, it is essential to color co-ordinate your custom closet and choose the right lighting. For instance, your closet colors can range from the earthy, darker look that comes with choosing more natural-looking cabinet finishes to a vibrant and crisper look that's born by using lighter colors for your cabinetry finishes, walls, and ceiling.
For lighting, a chandelier adds an extra layer of grandiosity to the closet space. Moreover, you can supplement it with overhead recessed lighting, task lighting, and strategically placed LED lighting integrated into the cabinetry design to add extra ambiance.
4. Install A Closet Island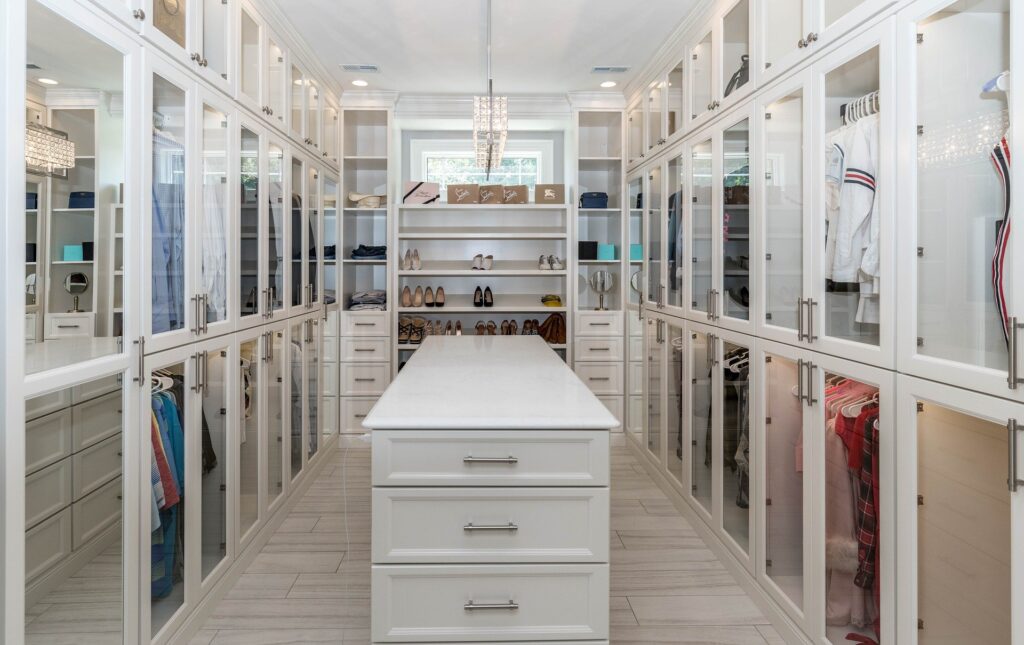 Like a kitchen island, a closet island is basically a dresser built into your walk-in closet and serves numerous purposes. Custom closet islands have drawers for watches, jewelry, stockings, and undergarments. 
Further, the countertop is a valuable surface for folding or organizing clothing or placing newly purchased items before you put them away. If you want to add more functionality, you can install charging sockets for your devices in the closet island.
5. Add Practical Closet Accessories
Closet accessories are the little details that can elevate a closet's design from being simply good to something truly remarkable. 
You can take advantage of the wide variety of practical closet accessories available in the market to help you with organizing your closet to streamline your everyday routine of getting ready for work and special occasions. 
Here are a few walk-in closet design ideas that you can use: 
Pullout pant rack

Sliding belt racks

Belt hooks

Laundry hampers

Retractable valet rods
6. Add A Safe
You might also use your walk-in closet to store certain valuable items. In such a scenario, a safe is a good idea to store items like expensive watches or jewelry.
While you may have a locker in your office for important documents, a second small hidden safe behind a cabinet door in your closet is a convenient place to keep valuable accessories safe and within reach. 
7. Create A Dedicated Shoe System
Show off and guard your shoes and boots with dedicated shelving instead of storing them underneath your hanging rods. Further, if you have a lot of shoes, you can dedicate an entire wall as well to optimize the storage space in your closet.
You can also group special pairs together with your regular everyday shoes at an easy-to-reach height, preferably eye level to ensure accessibility. If space is an issue, you can consider pullout shelves with double racks. You can use this storage to store pairs of shoes, one below the other. 
8. Choose Comfortable Seating Options
You will spend a good deal of time in your dressing room sitting; thus, comfortable seating is another priority when considering walk-in closet design ideas.
A comfortable chair or stylish bench with hidden storage will provide the perfect, relaxing spot for getting dressed and ready for the day.
9. Add A Makeup Table
With so many beauty and skincare products available, it can be tricky to keep all of them organized. It's particularly tricky when your collection keeps growing. 
You can set up a makeup table or vanity in your walk-in closet to keep all of your beauty products orderly, easy to find, and in the same space where you will be getting dressed.
10. Use A Full-Length Mirror
Whether you go for a standalone mirror, mirror-covered cabinets, or a mirror-covered wall, a full-length mirror with good lighting is crucial to any dressing room. Similarly, if your walk-in closet is small, a large mirror can give an illusion of more space as well.
11. Add The Perfect Finishing Touches
The last of our walk-in closet design ideas is to select the perfect finishing touches to complement your closet and dressing room space. You can include a stylish rug and a charging station or easily accessible outlets for all your electronic devices.
Adding artwork, pictures, and perhaps a small TV or sound system will help you personalize your walk-in closet space even more and increase your comfort level.