2020 has meant significant changes for almost everyone around the world. More people are working at home, choosing to stay in rather than go out, and noticing substantial differences that need to happen around the house. One of those changes is probably a custom closet or two, and we're happy to show you the new trends coming up in 2022.
Warmer Closet Colors
Plain white walls for your closet are no longer en vogue. Instead, warm colors and vibrant textures are making closet spaces come alive.  Warm neutrals such as terracotta and olive green are expected to remain widespread, with vibrant colors such as blue and yellow becoming more widely used.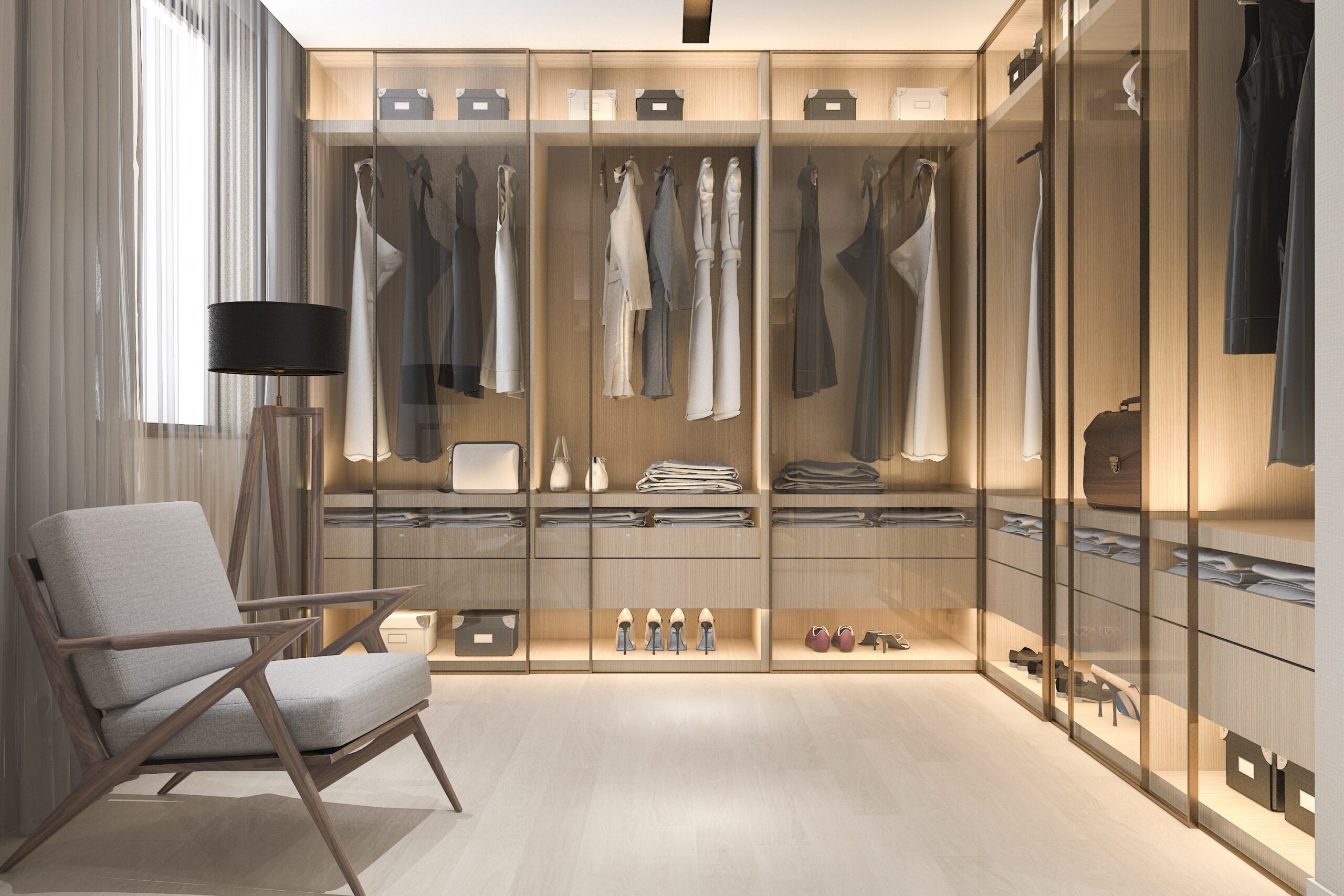 Closet colors famous for color therapy have also become trendy, as busy families seek to relax or improve their well-being by using colors that promote relaxation, focus, or happiness. You can expect adding natural textures such as leather and wood to become more popular as people seek a more natural environment in their homes. Layered rugs in different textures are also popular, adding a splash of color and texture to the flooring.
Cool Lighting
Warm yellow bulbs are being swapped out for cool LED lights for 2022. Whenever possible, natural lighting through windows has also become a desirable form of lighting for walk-in closet spaces. Gallery lighting is another popular option to brighten up the interior of your closet. No one likes feeling around a dark closet hoping to find what they need, so lighting should be a significant focus if it isn't already well lit.
Open-Faced Custom Closets Are In!
Another significant change in 2022 is the doors on closet space. They are removing the shelving to the eye, making it easier to see what you need. Taking custom closet doors off is especially helpful in 2022, as cabinets are becoming used for school and work storage and normal household functions. Open-faced custom closets can make organization beautiful, blending form and function for a beautiful new look.
Dynamic Storage and Built-ins Save Space
Because we are staying home more often, it's essential to make sure we make the most of closet space while making it easy to use and accessible. Dynamic storage is undoubtedly trending as more people look for ways to make their closets beautiful and easy to use.
Furniture and accessories can make a closet attractive and much easier to use. Creative designs and high-quality custom closets are currently favored over cheap factory designs as more consumers become aware of sustainability issues with mass-produced items. Many purchase one or two well-made pieces for their wardrobe rather than hoping fast fashion style shelving will last through the new year.
As 2022 comes to a close, many people look forward to a brand new year and custom closet. Updating the wardrobe brings not only a fresh new look but is also a great way to grow and adapt to the changes 2021 brought us. These popular trends are a great way to start if you know your closet needs an update.
Take Advantage of a Free Custom Closet Design Consultation!
Imagining the trendy-looking custom closet will add to your space when you finally get one. There is no need to worry about how best to start. At Nova Closet, we are offering FREE closet design consultations. You can learn what works perfectly for your pantry space with our passionate designers.Click here to reserve a session with one of our expert designers.