When your piled crates, bins, and boxes start driving you crazy every day, a custom closet in Fredericksburg can be just what you need to cut the chaos. Not only does it add functionality to your lifestyle but a custom closet also adds value to your home.
While you can pay $20,000 or beyond for a walk-in closet with high-end materials and a center island, but adding a few more shelves, drawers, and hanging rods are undoubtedly more doable without a high budget as well.
This guide will walk you through the typical cost of a custom closet in Fredericksburg based on size and the level of add-ons you desire.
Custom Bedroom Closet Cost
There's a clear difference between having a custom closet professionally installed and customizing your closet using DIY shelving from a home improvement store, both in cost and quality. 
Although both can get your closet organized, only a professional closet has the potential to increase your home's value. Further, a good custom closet has to have a variety of built-in shelving and drawers compared to the mass-produced wire shelving. 
Besides, all open shelving tends to make a closet more cluttered and chaotic, whereas a well-designed custom closet controls and conceals the chaos.
Cost of Custom Closet in Fredericksburg Per Linear Foot
The cost of a custom closet in Fredericksburg depends on your design and material choices. While broad level cost estimates are a good starting point, you can get more precise by look at the cost of your custom closet cost per linear square footage/
Wall Mount Custom Closet Costs
Standard color and design: $140 per linear foot
Standard color with accessories: $180 per linear foot
Upgraded color and design: $215 per linear foot
Upgraded color with accessories: $245 per linear foot
Floor Mount Custom Closet Costs
Standard paint and style: $210 per linear foot
Standard paint with accessories: $240 per linear foot
Upgraded paint and design: $250 per linear foot
Upgraded paint with accessories: $290 per linear foot
Premium paint and design with accessories: $350 per linear foot
Cost of Custom Closet Based on Closet Type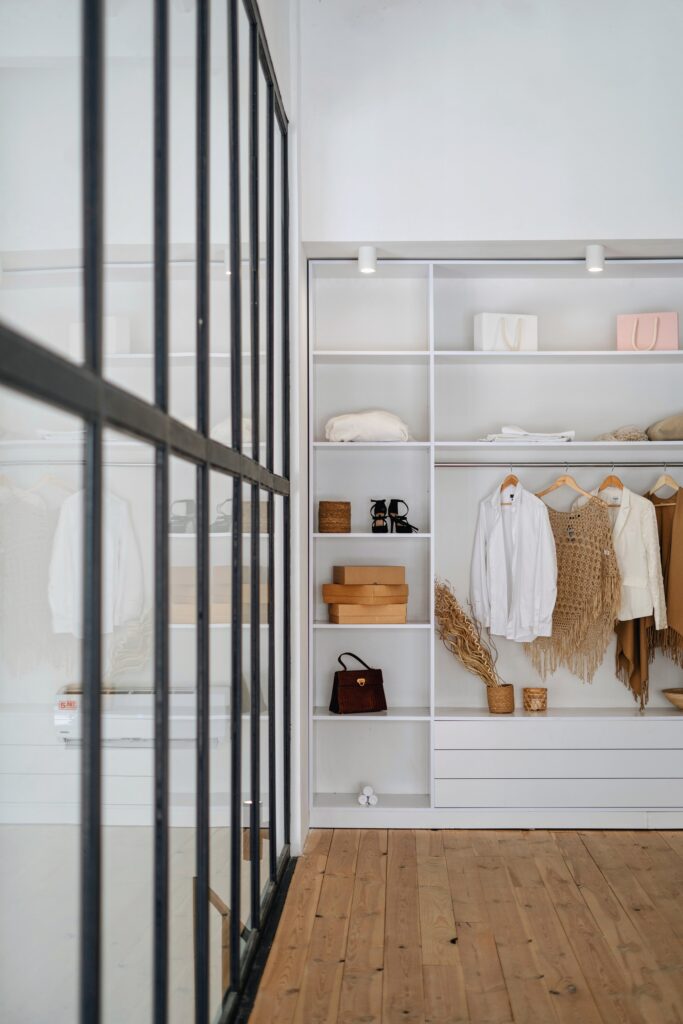 Price ranges for custom closets in Fredericksburg are broad because size and style influence the cost. It also includes whether it is a walk-in custom closet or reach-in.
Reach-in Closet
Reach-in closets in Fredericksburg usually measure 6 by 2 feet or 8 by 3 feet. Besides, they have room for one or two shelving units with customizable shelves and drawers, along with one or two rods for hanging clothes.
Customizing an 8 by 3 feet reach-in closet with built-in drawers and adjustable shelving will run you closer to the range of $1,500 to $2,500.
Standard Walk-in Closet
Admittedly, walk-in closets vary in size, from the small end at 6 by 6 feet to 15 feet by 12 feet or larger. Further, they can vary in layout, from long to lean and L-shaped. Nonetheless, many include some awkward nooks and crannies that can impact your custom closet costs. 
Depending on the shape and size, these custom closets tend to have room for multiple built-in drawer units, shelves, and storage cupboards, along with customizable rods for hanging clothes.
Homeowners can easily customize a large walk-in closet in Friedricksbrug for around $5,000 to $7.500. However, oddly-shaped walk-in closets are sure to cost more.
Dressing Room Closet
A dressing room closet is a luxury custom closet that dedicates a whole room to store and display clothing.
It will have everything you can imagine: a full-length mirror, a dressing table, display shelves for handbags and shoes, jewelry storage, and more. You can expect a luxury room closet for around $20,000 or more.